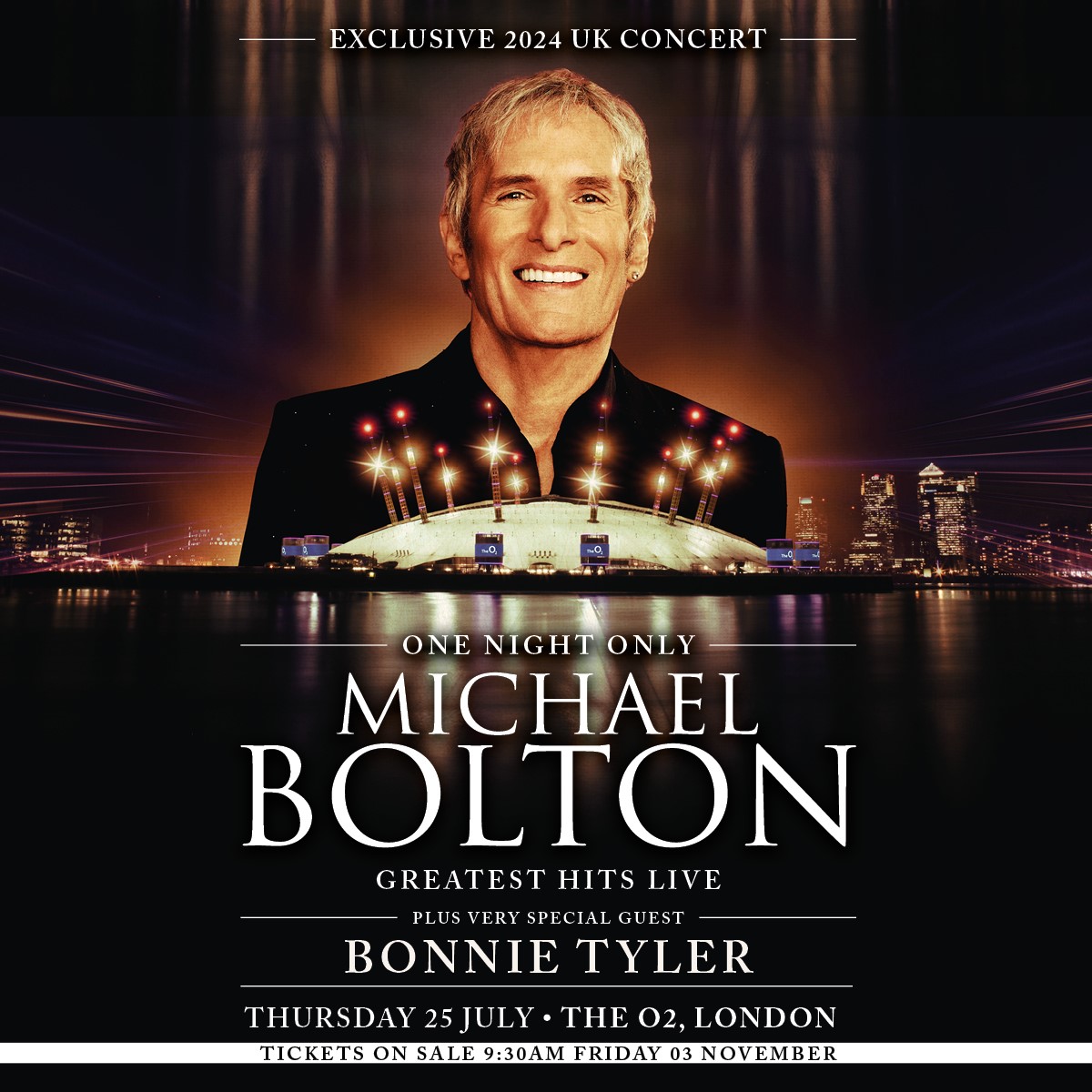 ONE NIGHT ONLY
GLOBAL ICON, SINGER-SONGWRITER ANNOUNCES ONLY UK CONCERT IN 2024
ALL THE GREATEST HITS LIVE 
PLUS VERY SPECIAL GUEST BONNIE TYLER
THURSDAY 25TH JULY 2024 – LONDON THE O2
(OCTOBER 27, 2023) Grammy award-winning and Emmy nominated singer-songwriter Michael Bolton has today announced his eagerly anticipated UK live return with an exclusive one-off arena show at The O2, London on Thursday 25th July 2024. Michael Bolton – One Night Only will be his first UK live show in three years and will see him joined by very special guest, the legendary Bonnie Tyler. Tickets go on sale 9.30AM, Friday 3rd November via www.axs.com, www.gigsandtours.com and www.ticketmaster.co.uk.   
Known for hits such 'How Am I Supposed to Live Without You', 'How Can We Be Lovers', 'When A Man Loves A Woman' and 'Time, Love And Tenderness', Michael Bolton has sold more than 65 million records worldwide and continues to tour the globe. Having released nearly 30 albums with nine number one singles, Bolton recently released studio album 'Spark of Light' featuring all original songs and this year celebrates his 70th Holiday Season with the release of 'Christmas Time' a timeless collection including classics & duets on 3rd November.
As a songwriter, he has earned over 24 BMI & ASCAP Awards, including Songwriter of the Year, 9 Million-Air awards, and the Hitmakers Award from the Songwriters Hall of Fame. His songs have been recorded by artists as diverse as Barbra Streisand, Cher, KISS, Kenny Rogers. He's been sampled by Jay Z and Kanye West, and is one of the few to co-write with the legendary Bob Dylan.
Michael's talent also shines in viral comedic moments like his lauded collaborations with The Lonely Island and Funny or Die, amassing over a quarter billion online views and tapping into multiple generations of fans.
Bolton has been honored with several Humanitarian awards – including the Martin Luther King Award granted by the Congress of Racial Equality (C.O.R.E.), the Lewis Hine Award from The National Child Labor Committee, the Muhammed Ali Humanitarian Award, the Ellis Island Medal of Honor from the National Ethnic Coalition of Organizations, and the Frances Preston Lifetime Achievement Award. Michael is especially proud of the initiatives carried out by his own foundation, The Michael Bolton Charities, now in its 32nd year of advocating on behalf of women and children at risk.
On his new UK show, Michael said "I am so excited to have my London return at The O2 Arena next summer. Looking forward to a memorable evening of performing and celebrating the hits!"
One Night Only in London will see Michael joined by very special guest; national treasure and vocal powerhouse Bonnie Tyler. Tyler is one Wales' best-known performers, achieving huge chart success all over the world.  Recognised for her distinctive husky voice, Tyler has a long list of hit singles including 'Total Eclipse of the Heart' (which is one of only 301 videos on YouTube that have reached over a billion views, watch here), 'It's a Heartache', 'Holding Out for a Hero', 'Lost in France', 'More Than a Lover', 'Bitterblue' and 'If I Sing You a Love Song'. This year whilst celebrating the 40th anniversary of 'Total Eclipse of the Heart', Bonnie released her memoir 'Straight From the Heart' and is currently working on new music, so watch this space.
On the news of her appearance, Bonnie said: "I am delighted to have been asked to appear as a special guest at Michael Bolton's O2 show and am really looking forward to seeing him, and performing for you all, there. See you at the O2 on July 25th."
Michael Bolton's One Night Only at The O2 London follows four successive and lauded sold-out UK tours. Tickets go on sale 9.30AM, Friday 3rd November via www.axs.com, www.gigsandtours.com and www.ticketmaster.co.uk.  VIP Packages are also available at WWW.SJM-VIP.COM.
MICHAEL BOLTON
ONE NIGHT ONLY
THURSDAY 25TH JULY 2024
LONDON THE O2
PLUS, VERY SPECIAL GUEST BONNIE TYLER
FOR MORE INFORMATION ON MICHAEL BOLTON
WEBSITE
X  
FACEBOOK  
INSTAGRAM
TIKTOK
YOUTUBE